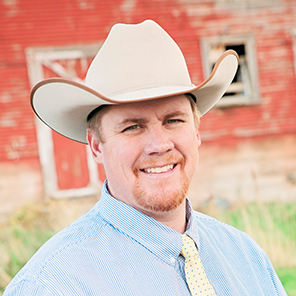 CAA Member since 2018
Born: 1976
Education: Utah State University, Bachelor of Fine Arts/Illustration
Chad Poppleton, a resident of Cache Valley, Utah, has been passionate about art and the outdoors for as long as he can remember. His interest began while on the farm and ranch with his father and grandfather working with animals and understanding their attitudes, behaviors, and conformation. Chad's father, also an artist, taught him how to draw and look at things with an artist's eye.
Hunting, fishing, riding colts, and exploring in the mountains has molded his relationship with nature. Interpreting the behavior and character of each animal in its natural environment is the motivation for his work. Studying, sketching, life painting, and observing behavior helps him find their characteristics and relay that into the canvas.
Chad studied at Utah State University under the direction of Glen Edwards and graduated with a bachelor's degree in fine art/ illustration. Chad continues to study the classical tradition of Master impressionists and renaissance-period work.
He is represented by Legacy Gallery in Jackson Hole, Wyoming, and Scottsdale, Arizona; Collectors Covey in Dallas, Texas; and Coeur d'Alene Galleries in Coeur d'Alene, Idaho.
In 2018 a lifelong dream was achieved when Chad was inducted into the Cowboy Artists of America. He has been profiled in Sporting Classics, Art of the West, Western Art Collector and Southwest Art Magazine. Chad is a member of the C.M. Russell Museum's Skull Society of Artists and was also the featured artist for the South Eastern Wildlife Expo in 2014. Chad exhibits in the Charlie Russell Museum, National Museum of Wildlife Art, Scottsdale Art Auction and Jackson Hole Art Auction. He also supports many local art clubs and conservation efforts in his region.
One of Chad's proudest accomplishments was earning the Bob Kuhn Wildlife Award from the National Museum of Wildlife Art. As an avid sportsman and conservationist, Chad spends as much time in the field as he does at the easel. His paintings are reflections of his love for the animals, wilderness areas, and the great outdoors.