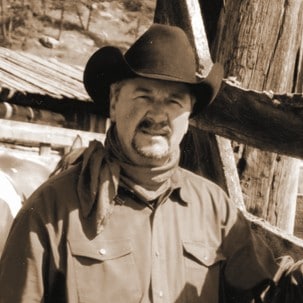 CAA Member since 1992
Born: August 29, 1949
Education: Hesston College, Longview College, Montana State University
Montana artist Loren Entz has been a member of the Cowboy Artists of America since 1992. During his 20 years in the organization, Loren has won his share of medals and the appreciation of collectors. "I'm very proud of my association with the CAA. My desire is to steadily grow as an artist and become the best painter and sculptor that I can be."
Loren is a versatile artist as typified by his skill with charcoal, pencil, pastel, oil and watercolor.
When Loren entered his first sculpture, he displayed the same artistic skill and comfort with clay as he has with the brush. Over the years, his dedication to quality has resulted in numerous awards, including six Silver and four Gold medals from CAA in both oil and drawing. At the 2011 CAA show, Loren received the Stetson CAA Award for the best overall exhibition, a Gold Medal for Oil Painting for Bill Allison, Saddle Maker, Roundup, Montana and the Ray Swanson Memorial Award for The Gift from Grandpa's Heart. Loren was again honored with the 2013 Stetson CA Award, voted on by the active CAA members. The artist who is awarded this honor has received a nod of approval from his peers for the best over-all exhibition. In addition, he won a Gold Medal in Water Solubles for Tender Loving Care.
Loren was the honored guest artist at the 2006 C.M. Russell Auction of Original Western Art in Great Falls, Montana, and he garnered the coveted Robert Lougheed Memorial Award at the 2006 Prix de West Invitational Art Exhibition. The award is based on the vote of all of the participating artists and is given to the artist with the best show of three or more works. Loren says, "It's a huge honor to gain the approval of my peers."
Loren makes his home in Billings, Montana, where he has restored an historic building that now houses his studio. Entz has a passion for teaching young artists and anyone wanting to learn. Although he offers workshops on figurative and landscape painting, his favorite is teaching artists on how to paint a horse from the inside out.