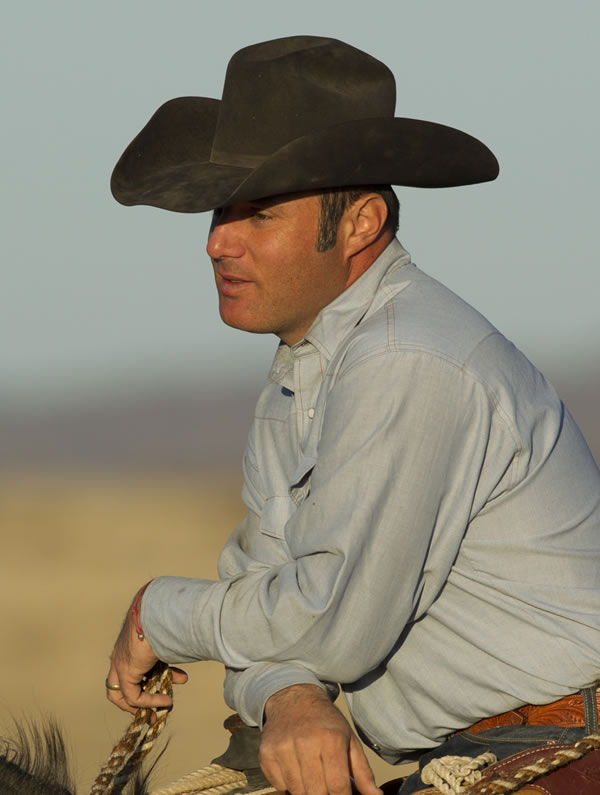 CAA Member since 2014
Born: August 18, 1978
Education: Self-taught
Teal Blake was born in 1978 and grew up in Montana, on the eastern slope of the Rocky Mountains, surrounded by ranching country. Growing up in his father's studio looking at C.M. Russell paintings and reading Will James books inspired him to pick up a pencil and start capturing his own visions of cowboys and the American West.
Teal has been painting professionally since 2005, and it seems he was predestined to become a western artist. Teal has always liked to show what makes the traditional West: cowboys not always clean shaven, shirts not always creased, and their horses' manes not always long.
Teal's love for the tradition of ranching and cowboying is unparalleled: He is often up before dawn gathering the cavvy, camping out on the wagon for weeks on end and playing cards with the crew during a rainstorm. His portrayal of ranch life and the handful of people keeping it alive is an authentic one. With no models, no costumes, simply being fortunate enough to work and ride alongside his friends and muses, he captures his material and inspiration firsthand.
In 2014 Teal's labor, talent and accomplishments earned him an invitation into the renowned Cowboy Artists of America. He has also been honored with several awards, including the Joe Beeler CAA Foundation Award and 1st Place Watercolor at the Phippen Museum, and has been featured in such magazines as Western Horseman, Western Art & Architecture, Southwest Art, Ranch & Reata and The Cowboy Way.
In 2011 Teal created "We Pointed Them North," an art show held in Fort Worth, celebrating the memoirs of Teddy "Blue" Abbott. Teal's work appeared on the cover of the Big Bend Saddlery catalog in 2012 and 2013. His painting "Morning Gather" was used for the cover of Some Horses by Thomas McGuane.
Teal and his son, Luca, currently reside in Fort Worth, Texas.